Console and Hand Held games
Multiplayer & multi platform games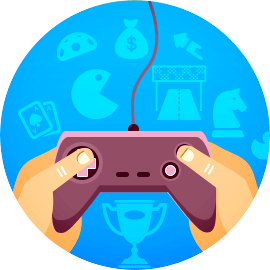 What we do ?
Consoles and handheld devices are extremely modest in design, convenient and versatile when compared to a gaming PC which speaks volume for its undying popularity among gamers. Console games have created a niche gaming community with both Xbox and PlayStation leading the console war over the years. Console games are controlled through a handheld device called the controller for interacting with in-game objects and together with speakers, console, display and controls can be incorporated into an object known as Handheld game. These games are generally loaded and played through multimedia disc created for specific consoles.

Why Us?
The most vital component of Multiplayer games is the Networking Servers and Communication Protocols. We have expertise in wide range of solution based on your game latency delay expectations and delivery platforms of the game. Security and other Factors also drive the decision to choose either Open Source or Proprietary Solutions.
We have expertise in the following Servers/Protocols.
1
HIRE XBOX GAME DEVELOPER
We use XNA 4.0 Software Development Kit (SDK) for Xbox based games and primarily focus on using C# based development. XNA offers powerful framework to create and add most complex features for your games. It gives us powerful shader language (HLSL), physics engine, model loaders, 3D collision detection, shooting, particle system, networking API and access to Xbox live and MSN live API. XNA studio works well with key frame animation and bone animations exported from Blender.

2
MULTIPLATFORM CONSOLE GAMES
Our in-depth expertise working with UNITY3D game engine also enables us to develop and deploy games for PlayStation as well as Windows Xbox consoles. The game engine supports newer Shader Model 5 to create high fidelity game visuals, accessing controller's vibration, speakers, touchpad and light color for High Quality multi-console platform games.
How we do ?
We have an experienced team; specialised right from conceptualization, design, and development to optimized plan for specific console deployment and other licensing procedures.
Here are some tools and framework we use:
Unity 3D development tools
XNA 4.0 SDK
Unreal engine 4
Visual C++
DirectX, OpenGL
Maya, Studio Max, Lightwave

Engagement Model
1
On Time And Material
Hire our Playstation, Xbox or Nintendo game developers through interview and work closely with them. You manage them and we bill you for hours worked.

2
Turn Key Basis
After you discuss your idea with us we give a fixed cost and delivery plan. We architect, manage and deliver the project. We have daily/weekly status calls.You approve designs and releases at every steps.