We at Logic Simplified, an offshore game design & development company, design stunning 3D assets to shape your game vision into awe-inspiring visuals. Our seasoned designers are adept at conceptualizing 3D assets that meet unique requirements of your video game and give players the feel they desire in modern gaming world. No matter what genre your video game falls in, be it a racing game, shooter game, or any game for that matter, we provide one stop solution for all your 3D assets needs.
3D Assets We Design for Your Video Game
3D Characters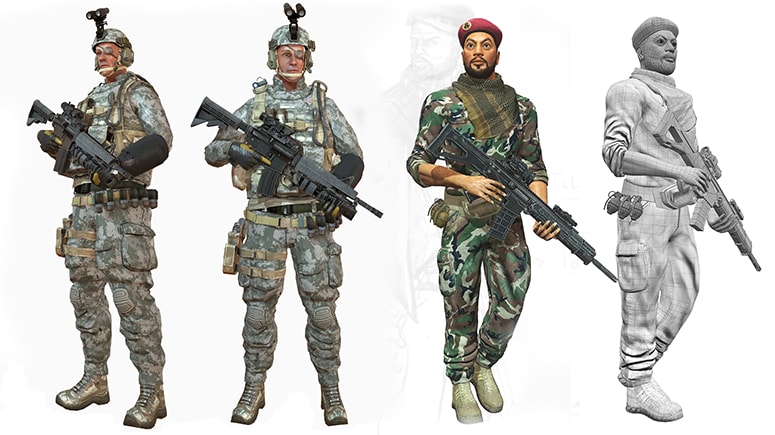 We design 3D characters, like humans, creatures, animals, etc., to fit the storyline of your video game. Our highly creative concept artists draw various sketches of 3D models to finally get the ones that look interesting and believable.
It's not only looks of characters that make them endearing, but their ability to express different emotions as well. Since a game character never starts and finishes in the same state, it's important that players can see and comprehend emotional changes the characters go through. Players love characters that behave like humans and express human like emotions, like fear, happiness, confidence, etc., through their face and dynamic body language, and this is exactly what you can expect from our 3D character designers.
Environment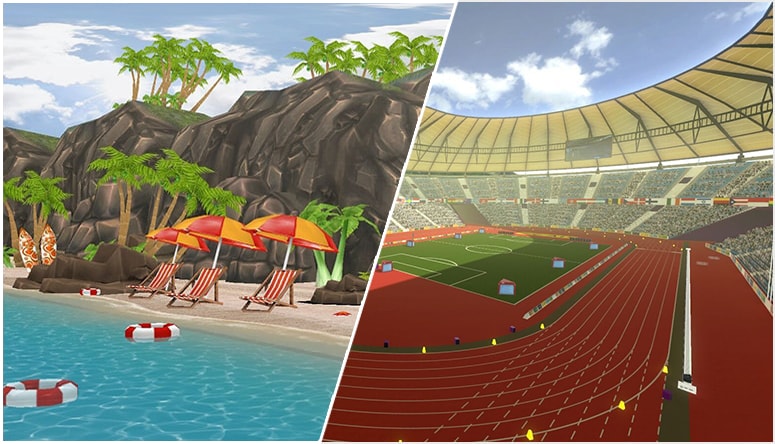 No matter whether your game art style is detailed, realistic, custom stylized or cartoonish, our designers create a believable environment for all to facilitate immersive experience.
Game environment pertains to lighting, atmosphere, weather effects, explosions, smoke, fluids, particles, fire, magic spells, etc. So, if a game character is interacting with the environment in day time, the lights will mimic natural light from the sun as we see in real life. And if it's about running or walking, the surface would be believable to do so, like an even, cleared, and hardened surface inclined at an angle that humans can think that it's possible to walk or run on such a surface in real life.
Objects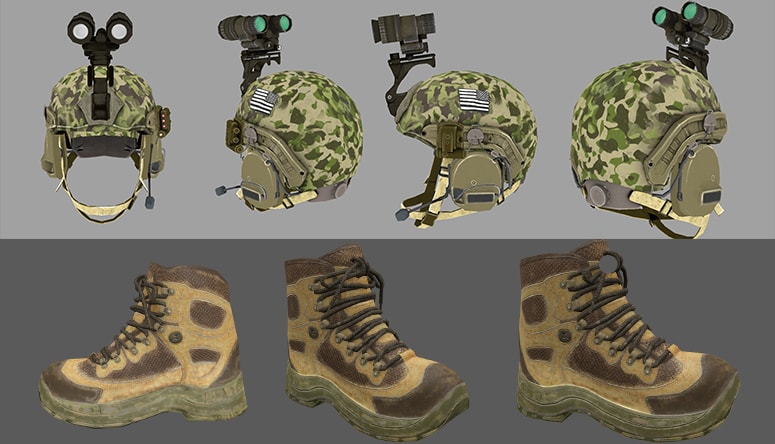 A video game is incomplete without objects, like clothing, weapons, treasure trunk, explosive barrels, balls, masks, etc. Our designers figure out all the objects that your video game requires and design them with flawless craft so that the gameplay becomes exciting and enthralling for players.
Vegetation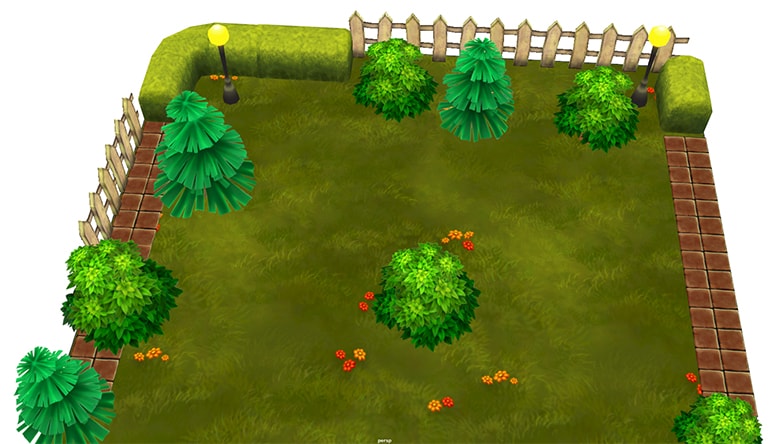 Vegetation is a part of game environment that involves grass, plants, trees, flowers, leaves, canopies, bark and trunks, stones and moss, etc. For games like Far Cry Primal, Vegetation breathes life in the game environment by establishing mood and atmosphere for any given area.
Our virtuoso vegetation designers carefully analyze the game environment of your game and gather references accordingly in order to grace your video game with beautiful and appropriate vegetation.
Vehicles
We design 3D vehicles for racing games, road trip games, fun car games, space games, vehicular combat games and many more. Video game vehicles range from  automobiles, aircraft, watercraft, spacecraft, military vehicles to a variety of other vehicles. Our team designs all sort of 3D vehicles based on your game type, giving them the look and feel that players admire and enjoy.
We use cutting-edge tools, like Maya, Zbrush, Blender, Photoshop, 3ds Max, SpeedTree, etc, to design 3D assets for your video game. We encourage innovation and creativity at our workplace to bring out-of-the-box ideas that make your video game thrive and result in high ROI. You might have a very unique and interesting game idea, but without attention-grabbing 3D assets that accentuate the storyline, your game just won't be able to take off and go as high as you desire. This is where we help you by providing top-notch game art and design services that are on a par with international standards.
For any query related to 3D assets design services, please contact us at enquiry@logicsimplified.com.
Author Bio: Gaurav Rawat is a game designer at Logic Simplified. He loves to write and read about innovative game technologies and he is passionate about gaming, photography, bike riding and adventure.